Hello! 365 Seafood Salad Recipes: Best Seafood Salad Cookbook Ever For Beginners [Homemade Salad Dressing Recipes, Southern Seafood Cookbooks, Tuna Fi (Paperback)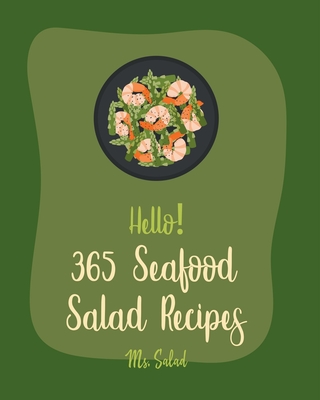 $18.74

Not in stock. Usually arrives in 2-5 Days
(This book cannot be returned.)
Description
---
Complementing Flavors, Crunchiness of Fresh Veggies, Easy-and-Quick-to-Make Recipes, Salad Makes My Life So Much Easier with My Hectic Schedule ✩★✩ Read this book for FREE on the Kindle Unlimited NOW DOWNLOAD FREE eBook (PDF) included ILLUSTRATIONS of 365 Seafood Salad Recipes right after conclusion ✩★✩
A fresh and flavorful salad is food I'll never get tired of eating. The complementing flavors, as well as the crunchiness of fresh veggies are what I love most about salad. I also like that I can create a lot of combinations of dressings, veggies, greens, grains, and legumes. Salad is perfect for me And you? Do you love salad? Let's discover dozens of colorful and wonderful salad recipes in the book "
Hello 365 Seafood Salad Recipes: Best Seafood Salad Cookbook Ever For Beginners
" with the parts listed below:
Chapter 1: Salmon Salad Recipes
Chapter 2: Shrimp Salad Recipes
Chapter 3: Tuna Salad Recipes
Chapter 4: Crab Salad Recipes
Chapter 5: Amazing Seafood Salad Recipes
Salad satiates my hunger for flavor, variety, and of course, freshness. But I also like its practical advantages. With my hectic schedule juggling different tasks, salad makes my life so much easier.Salad is so amazing, right? This is why I'd like to promote salad and share the joy of eating it. It allows you more money and time for other things that matter, such as having me time and spending time with your family and friends.
How about you? What do you love about salad?
This salad series features a variety of subjects and recipes you can choose from:
Coleslaw Recipes
Jello Salad Recipes
Waldorf Salad Recipes
Asian Seafood Cookbook
Southern Seafood Cookbooks
Egg Salad Recipes
Tuna Fish Recipes
Grilling Seafood Cookbook
Italian Seafood Cookbook
Homemade Salad Dressing Recipes
...
Lastly, I hope you'll live happily and healthily by eating salad more often
✩ Purchase the Print Edition & RECEIVE a digital copy FREE via Kindle MatchBook ✩A happy life is a combination of a healthy body and a healthy mind.
Would you love to share your own story? Give us your comments below to share your wonderful story.