Ramen Cookbook: Quick and Easy Japanese Noodle Recipes for Everyday to Make with Local Ingredients (Paperback)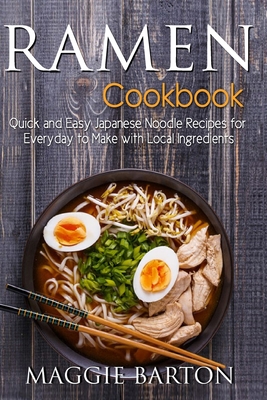 $11.19

Not in stock. Usually arrives in 2-5 Days
(This book cannot be returned.)
Description
---
Ramen Cookbook: Quick and Easy Japanese Noodle Recipes for Everyday to Made with Local Ingredients
Ramen Cookbook is everything you could possibly want to know about Japanese ramen. More than 85 easy and quick recipes from beginners to experts
Do you want to learn how cook Ramen dishes?
Do you have no idea how to start preparing Ramen dishes?
If you answered "yes" to any of these, then this is the perfect, educational and informational book for you
Hello Welcome to the guide of "Ramen Cookbook".
Ramen is a Japanese dish. It consists of Chinese-style wheat noodles served in a meat- or (occasionally) fish-based broth, often flavored with soy sauce or miso, and uses toppings such as sliced pork, dried seaweed, menma, and green onions. Nearly every region in japan has its own variation of ramen, such as the tonkotsu (pork bone broth) ramen of kyushu and the miso ramen of hokkaido.
Ramen is a versatile and easy to make dish that can be done simply or dressed up for more complex flavor. This book will also go over some of the more traditional toppings and flavors.
This easy ramen cookbook will help you create delicious meals. Whether you're cooking just for yourself on a work night, lots of friends and family for a get together, or simmering soup for an evening for two, there are a variety of different recipes and options to keep even the pickiest eater satisfied.
Bring with you the incredible flavor of Japanese ramen and make the perfect bowl at home with Ramen Cookbook.Here's what you'll learn:
STEP BY STEP INSTRUCTIONS - To make your dishes perfect.?
DETAILED LIST OF INGREDIENTS - Don't worry if you miss something.
RECIPES WITH IMAGES - To see broths and noodles in advance and choose your favorites.
And so much more
This step by step guide aims to help you to prepare Ramen recipes perfectly. This comprehensive guide will help you to make noodles from scratch and cook them to perfection with step-by-step instructions.
Interested?
Then Scroll up, Click on "Buy now with 1-Click", and Get Your Copy Now
Copyright: (c) 2020 by Maggie Barton, All rights reserved.