Bread Machine Cookbook: The Ultimate Guide To Use the Bread Machine And Get The Benefits From Your Homemade Bread. Includes 200 Delicious Reci (Paperback)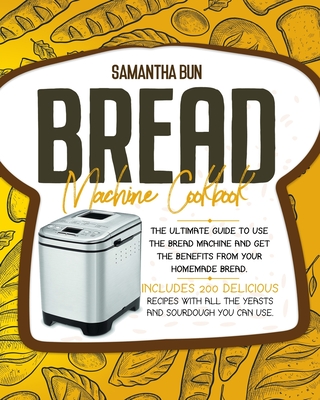 $18.63
Email or call for price
Description
---
You will be Delighted when you smell the scent of the Good Bread that fills your home, knowing that you have Prepared it Yourself with your Bread Machine without any effort and in No Time.
If you already have a Bread Machine, then you know what I'm talking about, but you probably also know how difficult it is to find a practical, complete, and precise guide without having to go crazy looking around for that cookbook that suits your Bread Machine and your needs.
If you haven't purchased your machine yet, then this guide will really save you a lot of time and money by giving you a clear idea of which one is the best for your needs.
Let's see what you can find inside this guide:
200+ Quick and Easy Recipes that will make your mouth water every time you prepare them,
How to Choose the Right Bread Machine for you based on its characteristics and your needs,
Understand the Functions, Cycles, and Various Programs of your Bread Maker to get the Best and Tastiest Results,
How to Achieve the Perfect Dough thanks to Tips and Tricks that no one ever told you about,
The 7 mistakes to avoid when you are making bread to stop wasting time and energy,
And much more
To sum up, this book contains Everything you Need to Know to get the most out of your Bread Machine.
So if you are like me, who Love to Wake Up with this Good Smell in the air and Always Have My Bread Ready when I want it, then there is only one thing left to do.
Click on "Buy Now" and Start Making Delicious Loafs with Your Machine Today
** Please note This book is also available in different formats, please choose the best for you
B/W Paperback:
B0943PGGS9
Colored Paperback:
B09M7JWZQC
B/W Hardcover:
B09HQVFY5D You can easily copy and paste the code to the
Amazon search
bar to get the right format.