A near-perfect balance of trenchant social commentary, rich characterizations, and action-oriented plot.... Attica Locke [is] a writer wise beyond her years.
- Los Angeles Times
Atmospheric... deeply nuanced.... Subtle and compelling.
- New York Times
Join us for a reading and signing with author Attica Locke featuring her debut literary thriller, BLACK WATER RISING.
In the tradition of Dennis Lehane, Walter Mosley and Greg Iles, Locke spins a tale of mystery and intrigue, set in Houston during the oil-rich 80's.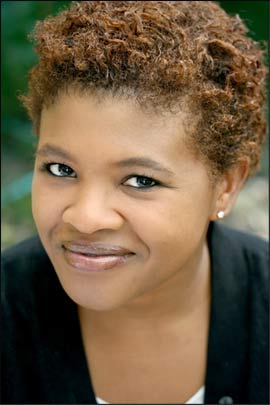 Attica Locke is a writer whose first novel, Black Water Rising, was nominated for a 2010 Edgar Award, a 2010 NAACP Image Award, as well as a Los Angeles Times Book Prize and was longlisted for an Orange Prize in the UK. Attica is also a screenwriter who has written movie and television scripts for Paramount, Warner Bros, Disney, Twentieth Century Fox, Jerry Bruckheimer Films, HBO, Dreamworks and Silver Pictures. She was also a fellow at the Sundance Institute's Feature Filmmakers Lab and is a graduate of Northwestern University. A native of Houston, Attica lives in Los Angeles, California, with her husband and daughter.
Event date:
Thursday, June 3, 2010 -

6:00pm

to

7:30pm
Event address:
Octavia Books
513 Octavia St
us

$14.99
ISBN: 9780061735851
Availability: On Our Shelves Now
Published: Amistad - April 20th, 2010
Jay Porter is hardly the lawyer he set out to be. His most promising client is a low-rent call girl, and he runs his fledgling law practice out a dingy strip mall. But he's long since made peace with his path to the American Dream, carefully tucking away his darkest sins: the guns, the FBI file, the trial that nearly destroyed him.

Houston, Texas, 1981. It's here that Jay believes he can make a fresh start. That is, until the night he impulsively saves a drowning woman's life - and opens a Pandora's Box. Her secrets put Jay in danger, ensnaring him in a murder investigation that could cost him his practice, his family, and even his life. But before he can get to the bottom of a tangled mystery that reaches into the upper echelons of Houston's corporate powerbrokers, Jay must confront the demons of his past.

With intelligent writing that captures the reader from the first scene through an exhilarating climax, Black Water Rising marks the arrival of an electrifying new talent.

"We are still a nation wrestling with the after-effects of the monumental changes that happened in this country as a result of the protest movements of the 1960s and '70s," says Attica Locke. "My book is in some ways a look at the repercussions for a nation (and black Americans in particular) transitioning to the "promised land"—America on the other side of the Civil Rights Act and the Voting Rights Act, where Jim Crow is dead and supposedly everything is okay, even if it still doesn't always feel okay."
---