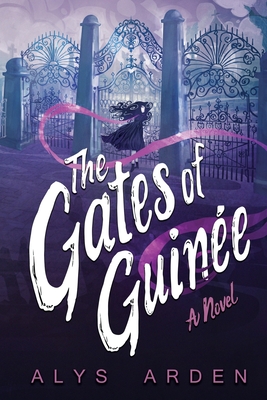 Join us for a virtual event with YA author Alys Arden celebrating her new novel GATES OF GUINÉE (Book 4 of THE CASQUETTE GIRLS series) in conversation with Kami Garcia.
To participate in the event, you must register.
Please also show your support by treating yourself to THE GATES OF GUINÉE from Octavia Books here. Books will by signed by Alys.
---
THE GATES OF GUINÉE picks up with Macalister LeMoyne held hostage by the Ghost Drinkers' coven and Adele willing to risk it all to save her father, even if it means opening a portal to the Voodoo Afterworld to hunt down the spirit of one of the greatest witches who ever lived.
Hailed as "the Anne Rice of the text message generation," Alys Arden's sparkling debut, The Casquette Girls, entranced over a million readers online, and the series has since garnered a cult following around the world.
"A Southern Gothic love letter." -Publishers Weekly, Starred Review, on The Casquette Girls
A trip to the Afterworld might be the end of the supernatural world.
As the Ghost Drinkers seep into the crevices of the Crescent City, leeching the French Quarter of magic, the local witches are consumed with a new fight for survival. Adele has one chance to save everyone she loves, but it will mean breaking away from her coven and trusting a vampire.
For the first time in four hundred years, Niccol Medici feels on the precipice of finding his stolen grimoire. But in order to restore his family's legacy, he'll have to succumb to his darkest desires.New York transplant and first responder Isaac Thompson will stop at nothing to protect Adele, even if he has to give in to his Spektral magic to unearth the truth about Nicco's monstrous past.
For those who choose to pass through the Gates of Guin e, the rules of the Afterworld are simple: Don't eat the food. Tell no lies.
In a whirl of lucid dreams, fetish markets, and ancestral reunions, only those who bare their souls will survive this ghostly hunt, or else they'll join the land of the dead permanently.
Teetering on the razor's edge between everything she desires and utter madness, only her heart and her magic can lead Adele back home... if only Callisto Salazar hadn't stolen her Fire, and the most secretive one of them all hadn't stolen her heart.
---
Alys Arden
was raised by the street performers, tea leaf-readers, and glittering drag queens of the New Orleans French Quarter. She cut her teeth on the streets of New York and has worked all around the world since. She either talks too much or not at all. She obsessively documents things. Her hair ranges from eggplant to cotton-candy colored. One dreary day in London, she missed home and started writing
The Casquette Girls.
Her debut novel garnered over one million reads online before it was acquired. (Skyscape) The fourth book,
The Gates to Guinée,
was published January 19, 2021.
Kami Garcia is the #1 New York Times, USA Today, and international bestselling co-author of the Beautiful Creatures and Dangerous Creatures novels. Beautiful Creatures has been published in 50 countries and translated into 39 languages. Kami's solo series, The Legion, includes Unbreakable, an instant New York Times bestseller, and its sequel, Unmarked, both of which were nominated for Bram Stoker Awards. Her other works include X-Files Origins: Agent of Chaos and the YA contemporary novels The Lovely Reckless and Broken Beautiful Hearts. Kami was a teacher for 17 years before co-authoring her first novel on a dare from seven of her students. She is a co-founder of YALLFest, the biggest teen book festival in the country.
Event date:
Thursday, January 28, 2021 -

7:00pm

to

8:00pm