Please come over to meet two children's authors -  Marissa Moss (well-known for her Amelia's Notebook series) and Marcia Goldman - when they drop by together to sign copies of their latest work.
Marissa Moss' BLOOD DIARIES: Tales of a 6th Grade Vampire continues her tradition of journal-style writing in this  funny, yet relatable, story told from the perspective of a middle schooler who just happens to be a vampire.  Her books are popular with teachers and children alike. Marissa is a California Book Award winner who has received multiple starred reviews from Kirkus, Booklist and Publisher's Weekly.
Marcia Goldman's LOLA GOES TO WORK: A 9-5 Therapy Dog is an adorable children's book that follows Lola, a little terrier with a big job. Children will identify with the feisty Lola as she struggles going to school, passing tests, and finally achieving her Big Dog dream. If Lola can make it in a world of Great Danes and Labradors, so can anybody who's feeling like a runt! The book even includes a teacher guide for empathy curriculum in back of the book - so it's a great buy for teachers, too!
Event date:
Saturday, May 10, 2014 - 2:00pm

$15.21
Email or call for price
ISBN: 9781939547057
Published: Creston Books - May 13th, 2014
Middle school is tough enough for normal humans, but when you're a vampire, it's even more challenging. Edgar rises to the occasion with wit, humor, and some help from his friends.
---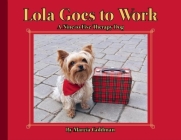 $19.83
Email or call for price
ISBN: 9781939547002
Published: Creston Books - August 1st, 2013
Lola's story not only shows how she made her big dog dreams come true, but also how helping others makes you feel like a giant. Lola proves that believing in yourself can make all the difference.
---