Please join us for a special ceremony at the Louisiana Humanities Center where authors Megan Abbott and Sarah St. Vincent will receive the 2019 Pinckley Prizes for Crime Fiction. After presentation of the prizes, the authors will discuss their works in a conversation with each other and the audience moderated by journalist Alison Fensterstock. The evening will end with a reception and book signings - with Octavia Books on hand to offer books for purchase.
This event is open to the public.
The Women's National Book Association of New Orleans established the Pinckley Prizes for Crime Fiction in 2012 for women writers to honor the memory of Diana Pinckley (1952-2012), a longtime crime fiction columnist for The New Orleans Times-Picayune, and her passion for mysteries. Pinckley was a founding member of the Women's National Book Association of New Orleans, as well as a civic activist, who gave her time and energy to local and national causes. The Prizes are administered by WNBA-NO, the New Orleans chapter of the Women's National Book Association, which is composed of writers, librarians, publishers, and booklovers, and was founded in 2011. The national WNBA was founded in 1917.
---
Megan Abbott is the winner of the Pinckley Prize for Distinguished Body of Work. She is the author of 10 books. Her most recent novel is Give Me Your Hand, which depicts the rivalry between two female graduate students in the world of high-stakes science. You Will Know Me, her recent book about competitive gymnastics, was one of the most critically acclaimed of 2016, and Dare Me is currently being produced as a USA Network series. Her bestselling novels probe the dark side of female friendship and ambition with clear-eyed precision and insight. Abbott is also a scholar of crime fiction, and the author of a nonfiction book, The Street Was Mine: White Masculinity in Hardboiled Crime Fiction, and the editor of the anthology, A Hell of a Woman. Her work has won or been nominated for the CWA Steel Dagger, the International Thriller Writers Award, the Los Angeles Times Book Prize and five Edgar awards, Currently, she is a staff writer on HBO's new David Simon show, The Deuce. She lives in New York.
The judges praised Abbott's fierce feminism, her brilliant prose style, and her laser-sharp insight into female friendships and ambition, particularly in her treatment of striving and gifted adolescent girls.
"This is such thrilling news!" Abbott said. "I feel more honored than I can say--such storied company and such a prestigious prize. I couldn't be more proud."
New York resident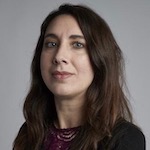 Sarah St. Vincent is the winner of the Pinckley Prize for Debut Novel for Ways to Hide in Winter, published by Melville house. St. Vincent is a human rights attorney who has advocated for survivors of domestic violence and currently researches national security and surveillance for Human Rights Watch. Her first novel blends her concerns with domestic violence and human rights in a chilling tale of a fugitive and the woman who gets to know him over a wintry season in a state park.
St.Vincent's exquisitely written novel is eerily timely, said the judges, as issues of domestic violence and immigration continue to lead the news.
"This is absolutely wonderful news!" St.Vincent said. I had no idea Ways to Hide in Winter was being considered for this prize and am beyond delighted."
---
The judges this year were novelist J.M. Redmann, author of the Mickey Knight and Nell McGraw series; Constance Adler, author of My Bayou, New Orleans Through the Eyes of a Lover; and music and culture journalist Alison Fensterstock, editor/co-author of The Definition of Bounce.
Abbott and St. Vincent will receive a $2,500 cash award, as well as a beautiful paper rosette fashioned from the pages of their books, created by New Orleans artist Yuka Petz.
---
Event date:
Thursday, October 10, 2019 - 6:00pm
Event address:
Louisiana Humanities Center, 938 Lafayette St., New Orleans.

$16.99
ISBN: 9780316547208
Availability: On Our Shelves Now
Published: Back Bay Books - July 2nd, 2019
A life-changing secret destroys an unlikely friendship in this "magnetic" psychological thriller from the Edgar Award-winning author of Dare Me (Meg Wolitzer).

You told each other everything. Then she told you too much.

---

$25.99
ISBN: 9781612197203
Availability: On Our Shelves Now
Published: Melville House - November 6th, 2018
Winner of the 2019 Pinckley Prize for Debut Novel

"[An] atmospheric suspense novel....Pick it up now." —O, THE OPRAH MAGAZINE

In the wintery silences of Pennsylvania's Blue Ridge Mountains, a woman befriends a mysterious foreigner—setting in motion this suspenseful, atmospheric, politically charged debut

---

$15.00
ISBN: 9780316097789
Availability: On Our Shelves Now
Published: Back Bay Books - August 27th, 2013
The searing novel of friendship and betrayal that inspired the USA Network series, praised by Gillian Flynn as "Lord of the Flies set in a high-school cheerleading squad...Tense, dark, and beautifully written."




---

$15.99

ISBN: 9780316231060

Availability: On Our Shelves Now

Published: Back Bay Books - April 25th, 2017

This is an audacious novel about family and ambition from "one of the best living mystery writers" -- the bestselling, award-winning author of The Fever (Grantland).


---

$14.99

ISBN: 9780316097826

Availability: Not in stock. Usually arrives in 2-5 Days

Published: Back Bay Books - July 3rd, 2012

From the bestselling author of Give Me Your Hand and You Will Know Me comes this darkly compelling novel about a teenage girl who disappears during a 1980s suburban summer.


---

$16.99

ISBN: 9780316231046

Availability: On Our Shelves Now

Published: Back Bay Books - May 12th, 2015

The panic unleashed by a mysterious contagion threatens the bonds of family and community in a seemingly idyllic suburban community.


---

$13.99

ISBN: 9781416534280

Availability: On Our Shelves Now

Published: Simon & Schuster - June 5th, 2007

By the author of Dare Me and The End of Everything

A young woman hired to keep the books at a down-at-the-heels nightclub is taken under the wing of the infamous Gloria Denton, a mob luminary who reigned during the Golden Era of Bugsy Siegel and Lucky Luciano.

---