Come join us for a fun storytime and a booksigning with picture book author/illustrator Shannon Kelley Atwater featuring her new book, ALLIGATORS DON'T LIKE FLOWERS.
---
Angelo the alligator was different in every way. With eyes bright blue and skin snow white, he loved to watch the butterflies and fireflies. One day he came upon a marsh filled with flowers and wove some into a crown. What happens when he wears his beautiful new crown? Artist and illustrator Shannon Kelley Atwater shares a sweet story of friendship and community celebrating the differences that make individuals special and overcoming the stereotypes that separate them. Her expressive illustrations capture the feelings of friendship, joy, and—sometimes—alienation that children experience in a story that provides a valuable lesson of acceptance. When the swamp friends unite in a procession that rejoices in the things that make them unique, something truly magical occurs. Come along and join their parade!
---
Shannon Kelley Atwate
r came to New Orleans from Fort Lauderdale in 2005 to attend Loyola University, where she received a BA in visual arts. As has been the case for many other artists before her, the city wrapped her in its magic and she has been here ever since, despite storms and challenges. After college, she sold her art on the fences of Jackson Square and eventually opened a gallery space in the French Quarter to showcase more than fifty different local artists. A member of the Mardi Gras Krewe des Fleurs, Atwater now focuses on family and commissioned art projects.
---
Event date:
Sunday, May 15, 2022 -

2:00pm

to

3:00pm
Event address:
Octavia Books - 5513 Octavia Street - New Orleans, LA 70115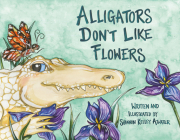 $19.99

ISBN: 9781455626779
Availability: On Our Shelves Now
Published: Pelican Publishing Company - May 9th, 2022
Angelo the alligator was different in every way. With eyes bright blue and skin snow white, he
loved to watch the butterflies and fireflies. One day he came upon a marsh filled with flowers
and wove some into a crown. What happens when he wears his beautiful new crown?
Artist and illustrator Shannon Kelley Atwater shares a sweet story of friendship and
---